Whirlpool Interschool Rolling Championship for Preprimary organized at JMPS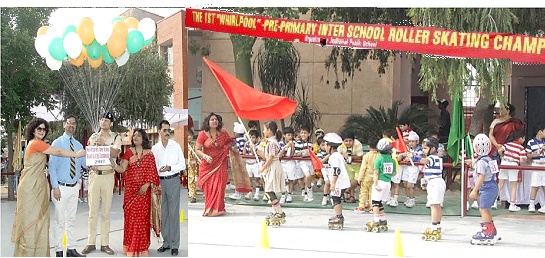 1st Whirlpool Inter-school Roller Skating Competition was held for preprimary block at Jodhamal Public School skating rink during the school hours. It was the first time where zooming skaters went buzzing on their roller skates on tiny feet of little children hailing from different schools such as Jmps, KC International, Model Academy,Lutheran Academy,APS, Tiger APS,Rich Harvest,Stephens International,KidzeeSidhra, Pre primaryKidzee Gandhi Nagar, VardhmaanBalVatika etc. The children participated with full zest as they had come all prepared for different activities already allotted to them such as Inline skating, Quads skating (looseskates, bearing skates) and the most mesmerizing event of all was the fancy dress on wheels which took the heart of all as the children were all dressed in different attires like lord Venkateswara with props and fisherman etc. The children had prepared certain entertaining items like dances and songs to break the monotony and to cheer their fellow mates were much appreciated by all. All activities were judged by a panel of judges who had tough time while making judgments, as each child was one better than his nearest rival.The Chief Guest for the event was SP Operations Shri.Vinay Kumar Sharma who was spell bound by the enthusiasm and sportsmanship of not only the little ones, but also their mentors. The entire competition was witnessed by the Principal Mr. Trilok Singh Bist, the school management and the honorable chief guest. They all appreciated and lauded the efforts of Coach Mr. Kamal Anandto make this event successful. A vote of thanks was given by the Principal, Mr. Trilok Singh Bist. The beaming winners were declared in the end with names are as VidyashiRakwal, ShreruyaVerma, Medhavi Mahajan, VedantJamwal, Advick, Vihaan Gangotra, Anurav Mahajan, OmanshSingla, Sidakh, AaishNabi, Sheikh Zainab, Pavik, Pearl Suri, Rudhika, Manya, Pratham Dev Singh, Jai Aditya, Jasandeep, Ansh, Davick, Aruman, Yuvraj, Manit Jain, Ashwin, Narayan Bakshi, Harmehar Singh, Gurshabad, Seeratdeep, Sugandh, Divya Shakti and Kaira Singh.
---
JODHAMAL JUNIOR CELEBRATE GRANDPARENTS DAY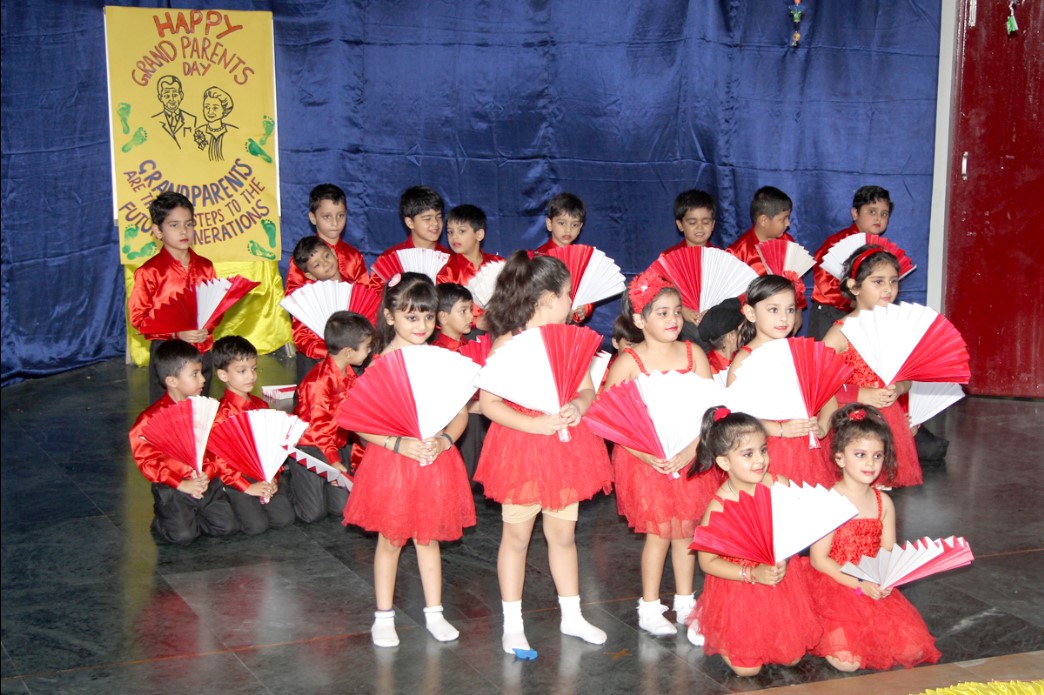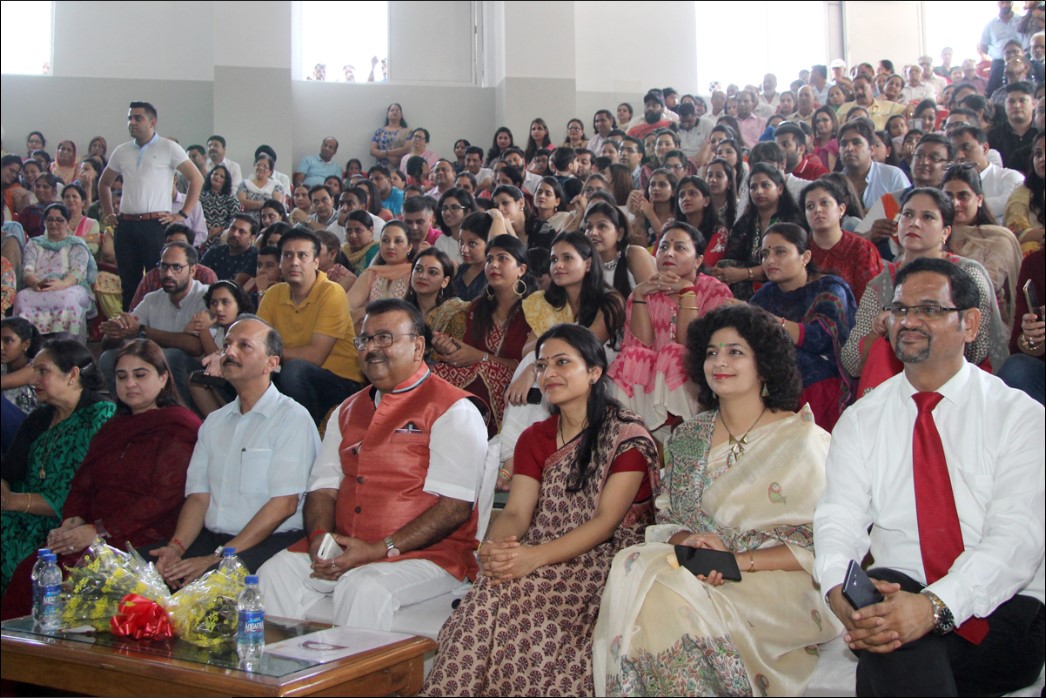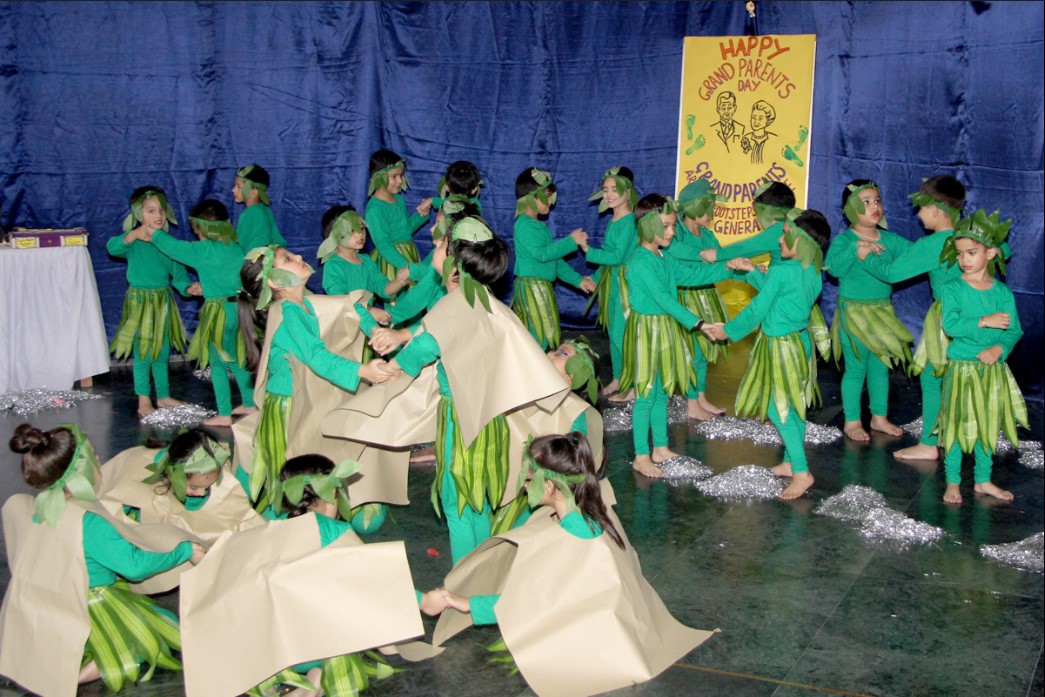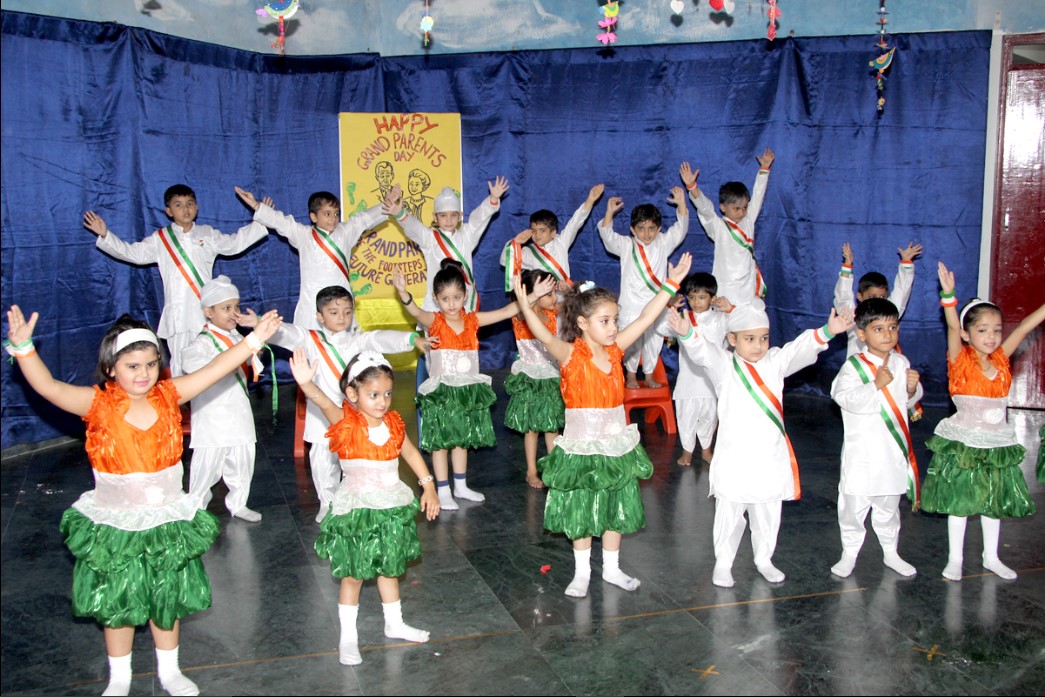 Jodhamal juniors celebrated Grandparent's Day with great zeal on to showcase love, affection and gratitude towards elders. All Parents were left amazed by scintillating performances put up by tiny tots one after other.
Mrs. Sushma Chauhan, Director, Urban local bodies Jammu was the esteem Chief Guest for the day. Chief Guest Director Sushma Chauhan spoke in her address that this kind of value based education is a must not only at school level but right from the home and having Grandparents with children filters the values even without being noticed. Values like patience, honesty and commitment can only be instilled by setting up an example according to her. The programme started with lightening of the auspicious lamp by Chief Guest, Principal & Trustees. The programme kickstarted with Ganesh Vandana, which was much appreciated and all power of positivity, the item presented by the little kids was a real foot tapping number, followed by party song. Each item was one better than other. Salsa, Hanuman Chalisa on Casio brought about a mystical feel bringing everybody closer to each other as many items such as Ramp walk, Couple dance and Games were put up for the enthusiastic parents. The JMPians made them sway and enter their world of fun and frolic , thus making the Grand Parents day a huge success. Minister for Industries & commerce Mr. Chandra Prakash Ganga also graced the occasion as a very special Guest and addressed the gathering and appreciated Jodhamal for instilling the values among the tiny little kids and said that if all schools imbinbe the values of loving and caring for the grandparents there will be no old age homes in the future. He also appreciated the hard work put in by the teachers in training the the little toddlers.
All Grand parents were highly satisfied and were happy to see Jodhamal imparting values amongst Gen Next with a fun filled plethora of activities. Vote of thanks was given Vice Principal Mrs. Pooja Panthri. Principal Mr. Trilok Singh Bist gave special kudos to CCA coordinator Mrs. Nandinibakshi, Soniya Mahajan and Pre Primary Area Coordinator Mrs. NeetuJohri for overall mentoring and meticulous planning of complete show. He also appreciated the teachers from pre primary section , Dolly Chandhoke, Amita Charak, Garima Pandit, Veerta Jolly, Gagandeep Kour, Priyanka Verma, Kiran Sen, Charu Balgotra, Manvinder Kour, Shruti Bakshi , Aadi Sharma and Kuldeep the casio teacher. Grandparents enjoyed all games organized for them together with the Grandparent's Ramp Walk & Couple Dance . It was a real treat to eyes to see the Grandparents enjoy the Programme specially designed for them to ecstacy. Arati Kuthiala the Director of the school appreciated the efforts of all concerned and thanked the parents and grandparents for making it so successful by their graceful presence.

---
JODHAMAL PUBLIC SCHOOL ORGANISES DENTAL CAMP FOR TWO DAYS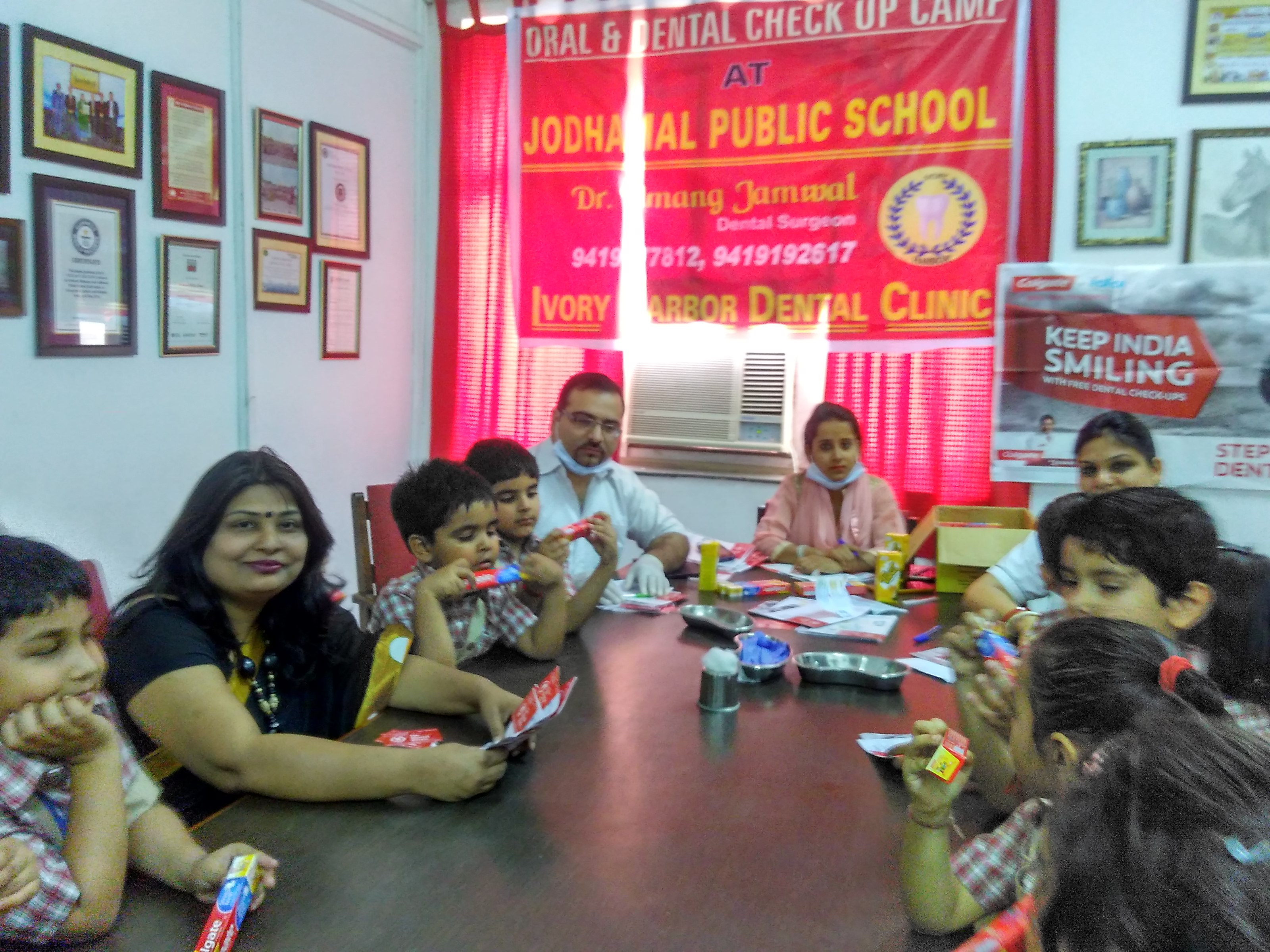 A two day dental camp was organized at Jodhamal Public School, ChanniHimmat, Jammu. The camp was conducted under the supervision of Dr. UmangJamwal. She has been a distinction holder and been awarded by the Hon'ble Health Minister of Himachal Pradesh, Sh. RajveerBindal. The event covered a presentation lecture on various aspects of dental problems and hygiene. During the event, free sample kit were provided to the student to spread awareness across society.
---
JODHAMAL JUNIORS CELEBRATED GRADUATION DAY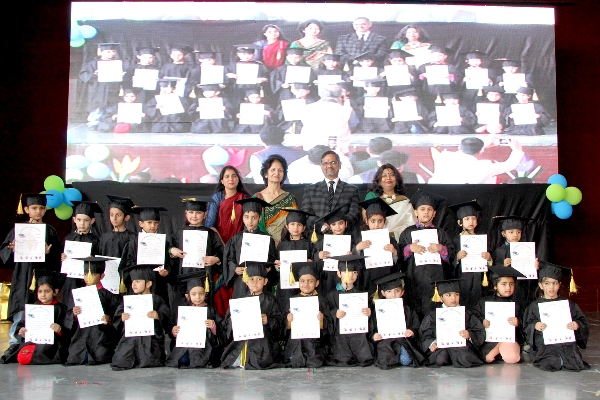 Jodhamal Public School celebrated Kindergarten Graduation Ceremony with great fervour and gaiety. Mrs Sarla Kohli, retired Principal of GGM Science College was the Chief Guest while Mrs. Rohini Aima, Principal cum Vice Chairperson of Jammu Sanskrit School and Dr. Renu gupta, Principal Army Public School Damana were the guest of honour at the occasion. The program began with traditional lighting of lamp by the Chief Guest, Trustee Mr. Nandan kuthiala, Director Mrs. Arati kuthiala, Dr. Renu Gupta & Mrs. Rohini Aima, thereafter Principal Mr. Trilok Singh Bist extended a warm welcome to all the guests and parents. He congratulated all the kids and wished them best for the future endeavour. Mr Bist said that the management is looking forward for the better prospects for each child entering the portals of Jodhamal and aiming at greater height. The day witnessed various cultural programs with an innovative theme right from pre nursery to UKG. Like Shiv Tandav performed UKG opals and GOA'N dance from UKG rubies and SUFI dance from UKG corals, SALSA from prenursery, JAZZ from LKG and skating being the main event which stole the show! In addition a spectacular performance was given by Koustabh and Suryansh performing dhol and tabla which was praised by one and all. Later, Mrs. Neetu Johri, co-ordinator pre primary wing presented the annual report, showing accolades and laurels notched by the students. Kindergarten is the first experience in schooling where the child moves from his mothers loving lap into the fond hands of the teacher. The proud parents of the students were present to witness the ceremony when their little darlings wore the graduation caps and gowns and held their graduation scrolls firmly in their hands. The graduation ceremony was indeed a true culmination of three years enrichment program consisting of pre nursery, LKG and UKG. The chief guest and guest of honour awarded the graduation diploma to the students who had completed the three year program at last. At the culmination vote of thanks was presented by the Principal where he extended special thanks to the Vice Principal Monika Sethi, all the coordinators: Mrs. Nandini bakshi, Mrs. Sonia mahajan, Mrs. Neetu Johri and All the pre primary teachers and supporting staff for their restless efforts to make the function a great event. Mr. Bist said that the best part of the program was the happy and confident students who came to the stage, performed well on the stage with a smile on their faces and conquered the hearts of each one present among the audience. A happy child is the first step towards a successful child and "Jodhamal has really been successful in their endeavour to bring the happiness in the each child entrusted to it" said Trilok Singh Bist.
---
JODHAMAL SCHOOL CELEBRATES GRANDPARENTS DAY WITH ZEST AND PRIDE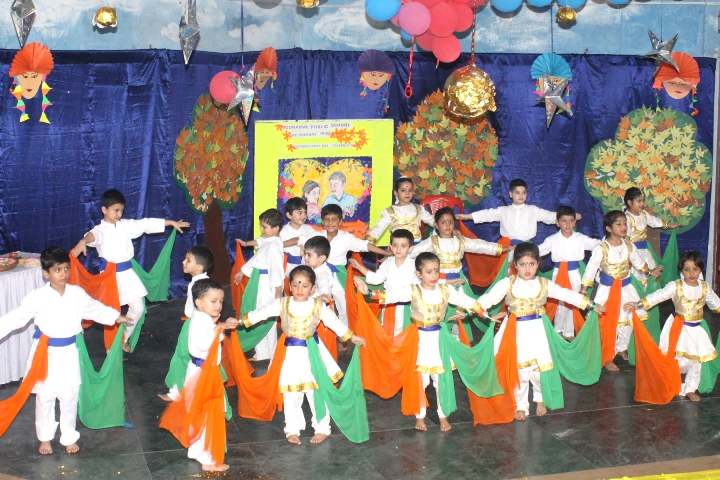 Jodhamal Public School celebrated Grandparents Day with remarkable zest on Saturdayto show love, affection and gratitude towards their elders. The little toddlers put up ascintillating performance for their beloved grandparents, shocking each and everybody in the audience. Ms Vijay Puri, an eminent Educationist and National Coordinator of All India Edu Leaders Forum, New Delhi, was the esteemed Chief Guest of the day. She has dedicated her whole life and provided variousdimensions in theeducation field.Mrs Puri was received by Mr. NandanKuthiala, Trustee, Mrs. Aaarti Kuthiala, Trustee, School Principal Mr. Trilok Singh Bist and Vice Principal Ms Monika Sethi. A warm gratitude was paid to Mrs Puri by the entire fraternity of Jodhamal School. The programme commenced with the lighting of the lamp where all the dignitaries cameon the stage for lighting of the auspicious lamp. The programme was kick started with Krishan Vandana, which was an act much appreciated by one and all.The little toddlers given a thrilling performances, from Clap your hand, to Pinga Fusion song of Hindi and Western Music, Mime show, Vande Matram with all their expressions and energy. Chief Guest, Mrs. Vijaya Puri was delighted to see the little stars doing Kathak and even Mime. In her speech she complimented the teachers, management and Principal of Jodhamalschool for imparting education,truly par excellence. Principal of the school, Mr Trilok Singh Bist lauded the efforts of students and activityteachers for preparing the students in such an excellent way. Special kudos was given to Pre Primary Coordinator Mrs. NeetuJohri and Senior CCA coordinator Mrs. NandiniBakshi for overall mentoring and meticulous planning. In his speech, Mr. Bist praised the efforts of Junior CCA Coordinator Mrs.Sonia Mahajan and all Pre-primary teachers Varinda Sonte, Dolly Chandhoke, Anandita Dey, Roopinder Kour, AmitaCharak, Gagandeep Kour, Priyanka verma, GarimaPandita, Manvinder Kour and in making the show a grand success
GRADUATION DAY OF TODDLERS AT JODHAMAL PUBLIC SCHOOL JAMMU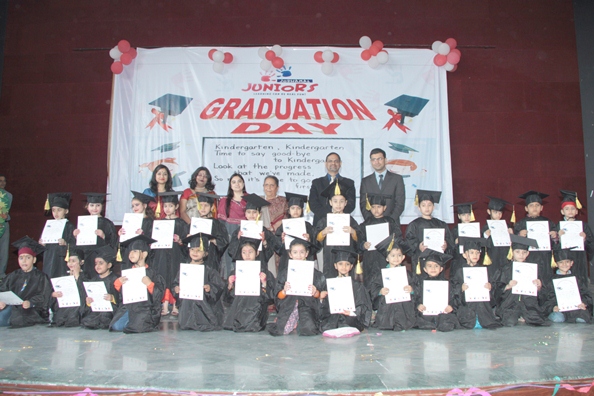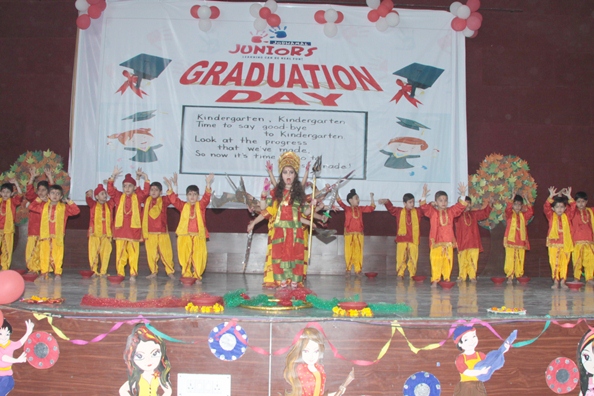 To mark the significance of schooling in the lives of toddlers, Jodhamal Public School acknowledged each one in the form of Graduation Day, a gracious passing out ceremony of all tiny tots, who have spent their initial years of life in school. The Chief Guest for the function was Mrs Susham Kuthiala and Guest of Honour Mr. Himanshu Mittal, Assistant Director UK-India Generation Programme from British Council . Little toddlers were very excited to receive their passing out from Pre-Primary to Grade-1 degrees, in their black gowns and smart caps. A cultural bonanza was presented by them to mesmerize the audience. Pre-Nursery group presented Noddy Dance with tinkling caps, Ketch up Song in flashy red dress and Chair Drill by UKG Class. Brown Girl in rain dance was full of expressions and energy. Dogri Song "TarreTudaPayeina" by UKG Children is spotless White Kurta Payjama and Flowering Turban enthralled one and all. Students of this block amazed everybody by presenting a Skating Drill with stunts performances. Hoola Hoop Dance by UKG Children in Pink Barbie Dress was a sight. Awards were presented to the students by Himanshu Mittal from British Council . The most coveted Award of Student of the Year from UKG was given to Ranjveer Singh, Star of the Year in each section of LKG were awarded to Varnika, Anchal and ,Anmoldeep , Star of the Year from UKG was conferred on Pawani Gupta,Nishant Verma, Satvik , Mahit & Shyla, Most regular student in the Pre Nursery was given to Tamsi Gupta. All these children's parents felt elated while they were asked to be on stage with their wards. Guest of Honour Himanshu Mittal in his address said that he was highly mesmerized by the performance of the little ones doing Kathak, dancing on roller skates and doing all sorts of stunts at such tender age and he was absolutely in a different world and had never expected this high standard in Jammu where he landed for the first time for the M & E visit to five elite schools of Jammu for the UK Teaching Assistants coming to Jammu this August. Himanshu also appreciated the teachers and the support staff looking after the kids with love and compassion which was visible throughout the programme. He complimented the Principal & management for imparting the education par excellence. The louds never stopped. Clapping Rightly said "I had a sparrow as pet, but it flews one day. I had a Squirrel, but it ran away too. Then, planted a tree and they both came back". Jodhamal Public School hones the talent of each one and brings out the holistic development of all its wards. All class teachers along with their classes, got the pass out folders, thus bringing an end to the spectacular show.The School Management and Principal, Mr. Trilok Singh Bist applauded the efforts of students of school staff for preparing the students so well. A special kudos was given to the CCA Coordinators Nandini Bakshi & Sonia Mahajan for the overall mentoring and meticulous planning of the complete show. Neetu Johri the Pre Primary Coordinator presented the Annual Report of the Year and informed the parents that the World Renowned Accreditation Agency World Education Foundation UK Awarded a 6 Star Gold Rating to Jodhamal Public School for its standard of Activities, Academics, Leadership Qualities,International Dimensions in the Curriculum, Competence of Faculty and Parental Involvement in the functioning of the school. Education World had also Ranked Jodhamal Public School as the No.1 school in J & K besides the Digital Magazine putting Jodhamal among the best 100 schools of India. All the Teachers from the Kinder Garten section had put in a lot of efforts and Principal applauded the efforts of all including Manpreet Kaur, Shweta Kohli, Vrinda Sonte, Maninder Kaur, Dolly Chandhoke, Anandita Dey, Gagandeep Kaur,, Deepika Manhas,Kamal Sharma & Ashu Dutta.